Live updates: Oklahoma 53, Texas 45 Final
.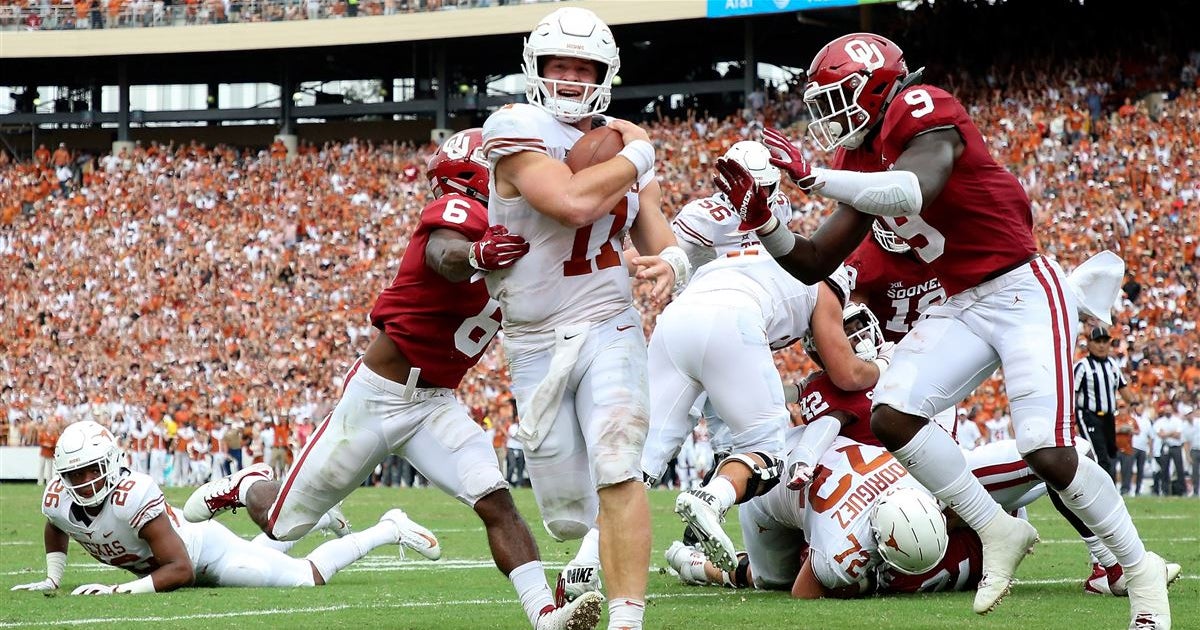 The Red River Showdown has arrived! The annual battle for the Golden Hat Trophy will kickoff Saturday morning inside the Cotton Bowl as No. 22 Texas and unranked Oklahoma look to add a key win on the schedule. The Sooners make their way to the Red River Showdown with a losing record, which is a first for OU under head coach Lincoln Riley, while the Longhorns have to put last weekend's embarrassing loss to TCU in the past as they prepare to face a talented Oklahoma team that is looking to turn the corner this season.
Horns247 is live from the Cotton Bowl and will provide in-game updates from Saturday's Red River Showdown.
Texas vs. Oklahoma: Saturday, Oct. 10
Kickoff: 11 a.m. CT
Location: Cotton Bowl (Dallas)
TV: FOX
Local Radio: Longhorn IMG Radio Network, 104.9 FM in Austin. Check other local affiliates here.
Audio Stream: TexasSports.com
Stream Online: fuboTV
Live Stats: Side Arm Stats
Podcast Preview - Texas: Horns247 looks ahead to Saturday's game and weighs in on what to watch for the Longhorns against the Sooners.
Podcast Preview - Oklahoma: Former OU offensive lineman Gabe Ikard gives his thoughts on the Sooners ahead of Saturday's Red River Showdown.
1ST QUARTER UPDATES
The Longhorns got off to a rocky start against the Sooners after Texas running back Keaontay Ingram fumbled the ball on Texas' first possession. Oklahoma answered with a 19-yard field goal to take a 3-0 lead over Texas.
6:04 left in Q1: The Sooners have extended their lead over the Longhorns. After Texas held Oklahoma to a field goal on the Sooners' second possession of the ball game, the Longhorns struggled to contain Oklahoma, which ended with OU QB Spencer Rattler connecting with Marvin Mims for a 30-yard touchdown. Oklahoma leads Texas, 10-0.
00:00 left in Q1: The Texas defense came up big at the end of the first quarter when redshirt sophomore linebacker DeMarvion Overshown intercepted Rattler and returned the ball to the Sooners' 11-yard line.
END OF FIRST QUARTER: Oklahoma 10, Texas 0
2ND QUARTER UPDATES
Texas opened the second quarter on offense as the Longhorns put their first points on the board when Cameron Dicker hit a 34-yard field goal to cut Oklahoma's lead, 10-3.
11:44 left in Q2: Texas DL T'Vondre Sweat and LB Juwan Mitchell helped get the Longhorns back in the game after Sweat forced a fumble by Rattler, which was recovered by Mitchell. The Texas offense answered two plays later when Sam Ehlinger ran in a 6-yard touchdown to tie the game, 10-10.
09:05 left in Q2: Texas punter Ryan Bujcevski's punt was blocked by Oklahoma to give the Sooners the ball in Texas territory. And the Sooners answered when running back T.J. Pledger ran in a one-yard touchdown to regain the lead for Oklahoma, 17-10.
04:14 left in Q2: It's all tied up in Dallas. Ehlinger ran in his second touchdown of the game to get the Longhorns back in the game and erase the Sooners' lead, 17-17.
END OF SECOND QUARTER: Texas 17, Oklahoma 17
3RD QUARTER UPDATES
11:40 left in Q3: Oklahoma has regained the lead after Pledger ran in a two-yard score to go up 24-17 on the Longhorns.
1:27 left in Q3: The Sooners have extended their lead in the Cotton Bowl after Pledger made his way to the end zone for a one-yard score to give Oklahoma a 31-17 lead over Texas.
4TH QUARTER UPDATES
03:28 left in Q4: Texas has cut Oklahoma's lead late in the fourth quarter. The Longhorns found the end zone after Ehlinger connected with redshirt sophomore wide receiver Joshua Moore for a nine-yard touchdown. Texas trails Oklahoma, 31-24.
00:14 left in Q4: Ehlinger came through when it mattered most to tie it up with Oklahoma. The senior QB led his team down the field on an eight play, 84-yard drive that ended in Ehlinger finding Keaontay Ingram in the end zone to tied it up, 31-31, and force overtime.
OVERTIME
Ehlinger continued his late game magic against the Sooners after he led the Longhorns on a key scoring drive in overtime to give Texas a 38-31 lead over Oklahoma.
The Sooners have answered and tied it up in OT. After Texas took the go-ahead lead over Oklahoma, Rattler and the OU offense tied it up, 38-38, to force double overtime.
After tying it up with the Longhorns, Oklahoma took a 45-38 lead over Texas in double overtime.
The Longhorns are back in it. After Oklahoma took the lead over Texas in double overtime, the Longhorns struck back on Ehlinger's 25-yard run to tie it up, 45-45, with the Sooners.
4OT: Oklahoma put it on Texas to regain the lead. Rattler connected with Drake Stoops for a touchdown and a successful two-point conversion gives the Sooners a 53-45 lead over the Longhorns.
FINAL: Oklahoma 53, Texas 45
KEY GAMEDAY STORYLINES
Horns247 Staff Predictions: What will be the outcome of Saturday's game?
Texas Depth Chart: Official depth chart for Longhorns' Week 4 rivalry matchup
Behind Enemy Lines: OU Insider previews the Sooners
Texas-OU Recruiting: Recruiting battles that helped shaped this year's Red River Showdown
What They're Saying: Herman looks ahead to Saturday's game
The Insider: What changes can we expect to see from Texas?
Texas Football Injury Update: Whittington returns to practice ahead of Oklahoma
Horns247 Staff Question of the Week: Is Texas heading in the right direction?
William Hill Point Spread: Oklahoma, 3-point favorite (as of Saturday morning)
INSIDE THE ALL-TIME SERIES
Texas vs. Oklahoma all-time series record ... Texas leads, 62-48-5
Series record inAustin … Texas leads, 7-2-1
Tom Herman's head coaching record ... 49-20
—At Texas … 27-16
—Against Oklahoma … 2-3
Lincoln Riley's head coaching record ... 37-8
—At Oklahoma… 37-8
—Against Texas … 3-1
Last meeting ... Oklahoma 34, Texas 27
A Texas win would mean ... The Longhorns would get back on the right side of winning and move to 3-1 on the season and 2-1 in Big 12 play.
What's next for the Longhorns? Make sure you stay in the loop and sign up for Horns247 today! New members get 30% OFF your first year of Texas scoop OR one month of Horns247 VIP access for ONLY $1!
GAMEDAY EVENTS SCHEDULE
Notes from the Cotton Bowl: "With an 11:00 a.m. Texas time kick-off, the State Fair is urging fans to arrive early to make sure they have plenty of time to go through security, not only into the fairgrounds but also into Cotton Bowl Stadium for the game. The State Fair is also urging fans to remember the clear bag policy in effect for Cotton Bowl Stadium by visiting BigTex.com/football and review precautions related to COVID-19.
"Due to COVID-19, this year's game is limited to 25% capacity. To provide fans with the best experience possible, while keeping health and safety top of mind, only a limited number of tickets will be distributed by the University of Texas and University of Oklahoma overseeing ticket distribution. Parking at the State Fair for the AT&T Red River Showdown can be accessed at Gates 5, 6, 8, 10, and 11. For guests parking in official State Fair parking lots, proof of a game ticket will be required before parking will be allowed. Please be prepared to show proof of game ticket when arriving to park. For the health and safety of all attendees, every guest in a car must have a valid 2020 game ticket to enter the fairgrounds on game day."