Wisconsin vs. Northwestern score: Live game updates, college football scores, NCAA highlights, coverage
Northwestern now has a clear path to returning to the Big Ten title game for the first time since the 2018 season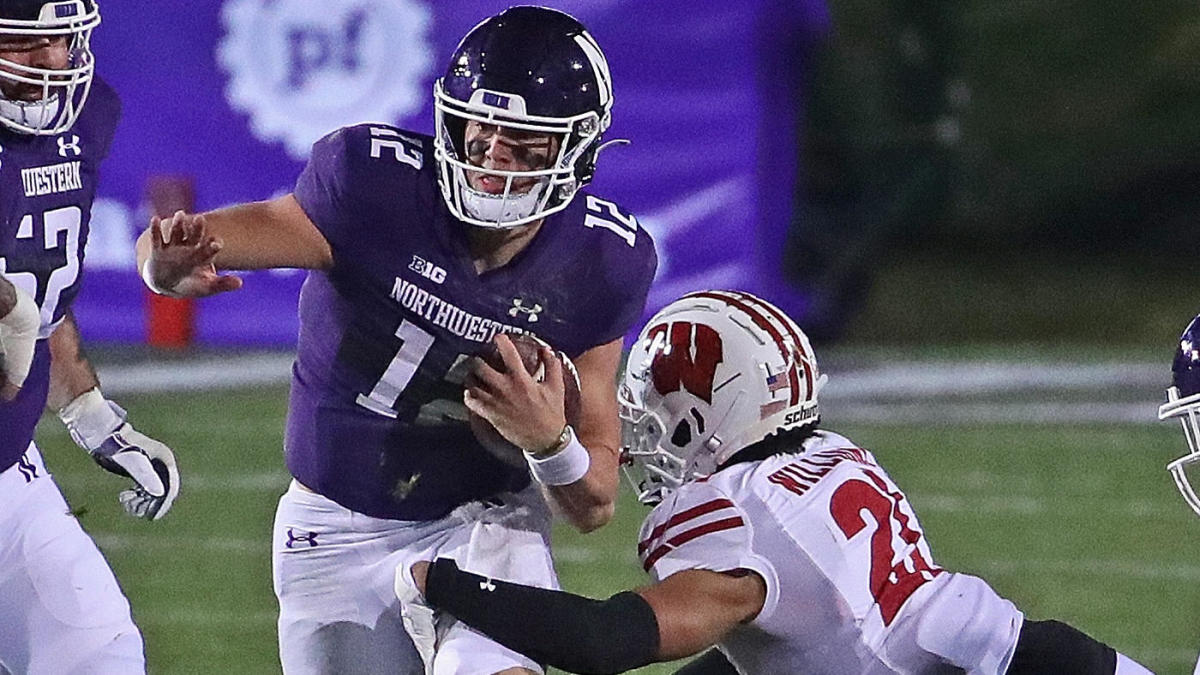 No. 19 Northwestern took a big step forward in the race for the Big Ten Championship Game by knocking off No. 10 Wisconsin 17-7 at home on Saturday. As the score would suggest, this was a classic Big Ten grind of a game. The Wildcats didn't light it up on offense by averaging 3.9 yards per play, but they didn't need to. Their defense is what wins games, and what a defensive effort they put up. 
Wisconsin had 17 drives over the course of 60 minutes. Only one ended in points, and it was a six-play, 80-yard drive off of a Northwestern turnover at the goal line. Otherwise, no drive went more than 42 yards. Northwestern's defense forced four three-and-outs and had five takeaways -- three of those turnovers were interceptions by quarterback Graham Mertz. Mertz has been excellent in his first two games but looked very freshman-on-the-road against the Wildcats' experienced group. The four first-half turnovers by Wisconsin were the most by the program since 2004, while the five turnovers overall were the most for the program under coach Paul Chryst in five years. 
This also marked the fourth time this year that Northwestern's defense shut out the opposing offense in the second half. This defense is legit, and at 5-0, Pat Fitzgerald's team is in the driver's seat to head to Indianapolis for the Big Ten Championship where it's likely to face Ohio State. With only three games left against Michigan State, Minnesota and Illinois, Northwestern could be crowned Big Ten West champs for the second time in three years at this pace. 
What did we learn about the Badgers and Wildcats?
Northwestern is (gulp) a CFP contender
Say it with me and say it with feeling … "Northwestern is in the hunt for a College Football Playoff berth."
Now do it again.
One more time with feeling. 
It seems crazy that a statement like that could be true. But it's 2020. Down is up and forward is backward, so it only makes sense that the Wildcats are CFP contenders.
Take a look at the rest of their schedule. They play at Michigan State and at Minnesota before finishing off the regular season at home vs. Illinois. Do any of those games stand out as likely losses? Nope. Not with the way Northwestern plays defense. 
Can Northwestern actually make the CFP? Probably not. After all, offense is what matters most in college football, and it's unlikely that it can keep pace with Ohio State or Indiana in a Big Ten Championship Game. But they're probably going to walk into Lucas Oil Stadium 60 minutes away from glory. 
Brandon Joseph is a star
If you don't know his name, get to know it. Joseph is the driving force behind a Wildcats defense that has established itself as one of the best in the country.
The freshman from College Station, Texas, had two picks on the night and has five on the season. He's just the third Big Ten player over the last 15 years with five or more interceptions during his team's first five games of the season. Not a bad start to his career to say the least. 
It goes beyond that, though. Now that the Wildcats have the inside track to the Big Ten Championship Game and are squarely in the national title hunt, they'll need to rely on their budding superstar more and more as they enter the stretch run. He got his first taste of the big stage on Saturday and came up big. That's a great sign for the future of the 2020 Wildcats and beyond. 
Time to slow the Mertz hype
The redshirt freshman quarterback of the Badgers was the talk of the Big Ten early in the season, but he came crashing down to Earth against Northwestern in a big way. Mertz was clearly confused by what the Wildcats were throwing at him, which forced him into some inexcusable mistakes -- including his second interception of the game. That pick came late in the second quarter with his team driving when Joseph stepped in front of a pass to set up a seven-play scoring drive from Northwestern.
The pressure didn't end there. Down seven at the 23-yard-line early in the fourth quarter, Mertz was sacked by a blitzing Cameron Ruiz on fourth-and-6 to end the Badgers' best scoring chance of the second half. He had a receiver on a hot route available, but got happy feet and took a sack that he just can't take in that situation. 
Mertz deserved the credit that he got during the first two games of the season. But he was bound to have some down moments. It's almost like we forgot that he isn't a seasoned-veteran based on his play early in the season. This should serve as a learning opportunity as he moves on through his career. 
Everything works out
Peyton Ramsey transferred to Northwestern after Michael Penix Jr. beat him out for the starting job at Indiana. I'd say all parties are happy with the outcomes.
Ramsey was a solid 23-of-44 for 203 yards, two touchdowns and, most importantly, zero interceptions. He wasn't a difference-maker, but he didn't have to be in this one. He managed this game to perfection, which is a sign of maturity from a veteran quarterback who's fully aware of his limitations and the philosophy of his team. 
What about Penix? Oh it's working out for him as well. All he did prior to Saturday was lead the Hoosiers into the top 10. No, it didn't work out against Ohio State. But Penix at least kept it close. 
The transfer portal worked for Ramsey and Penix in the exact way that it's supposed to. 
CBS Sports was with you the entire way updating this story with the latest from the game. This story will be updated shortly with takeaways from Northwestern's massive Big Ten West victory on Saturday.