Norwich City 1-2 Manchester United: FA Cup quarter-final – as it happened
Minute-by-minute report: United were below their best, but Harry Maguire's late goal was good enough to see off ten-man Norwich. Scott Murray was watching.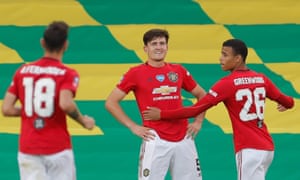 Key events
Show
8.05pm

BST

20:05

EXTRA TIME, FULL TIME: Norwich City 1-2 Manchester United

8.02pm

BST

20:02

GOAL! Norwich City 1-2 Manchester United (Maguire 118)

7.48pm

BST

19:48

EXTRA TIME, HALF TIME: Norwich City 1-1 Manchester United

7.27pm

BST

19:27

FULL TIME: Norwich City 1-1 Manchester United

7.19pm

BST

19:19

RED CARD! Klose (Norwich City)

7.06pm

BST

19:06

GOAL! Norwich City 1-1 Manchester United (Cantwell 75)

6.42pm

BST

18:42

GOAL! Norwich City 0-1 Manchester United (Ighalo 51)
Live feed
Show
8.24pm BST20:24
So that's your lot. Barney Ronay was at Carrow Road to see United pip Norwich at the very end. His report has landed. Click, enjoy ... and thanks for reading this MBM. Nighty night!
8.21pm BST20:21
Ole Gunnar Solskjaer speaks! "That's cup football for you. The game wasn't the greatest spectacle. I felt that we kept the ball OK but didn't create enough chances, but we're in the semi-final. It was a good workout, got some minutes into many players and rested a few. And there were some nice goals, it was good for Harry to get the winner. We're through, that's what matters in the cup. The changes will have affected our flow, I didn't make it easy for them! But we're through and we're happy with that. Odion Ighalo is a proven goalscorer and today he's played a part in both the goals. He's important for us ... and great in the dressing room too."
Updated at 8.22pm BST
8.12pm BST20:12
The hero of the hour, Harry Maguire, speaks to the BBC. "It was a difficult game, we made hard work of it. We wasn't at our best. But sometimes in cup games that happens, and you've got to find a way. We've managed it and we're in the next round. I can't really put a finger on it [why United were below par]. We'll have to watch it back and analyse it. We were slow and tried to go through the middle too often. We needed to be wide a lot more. But in the end we've got there. I'm always pleased to chip in. That's my third this season, I want to get plenty more, I'm disappointed with just the three but it's something I'm working on. Hopefully I can get a few more and we can take it into the next season. I joined this club to win trophies, so we look forward to the semi. But we've got a big game against Brighton and have to get the three points."
8.07pm BST20:07
Norwich battled well with ten men, but the pressure finally told. Daniel Farke will be proud of his team's performance, which will have drained the batteries but may give them a little heart as they desperately try to retain their Premier League status. He offers his opposite number Ole Gunnar Solskjaer some genuine congratulations. A few of his players are down on their haunches, though, as United celebrate their dramatic victory.
8.05pm BST20:05
EXTRA TIME, FULL TIME: Norwich City 1-2 Manchester United
United are through to the last four, thanks to their captain's late contribution!
8.04pm BST20:04
ET 30 min: United are one extra minute away from the semis.
8.03pm BST20:03
ET 29 min: That's surely sent United into the semi-finals! Norwich take one last throw of the dice, replacing Lewis with Idah.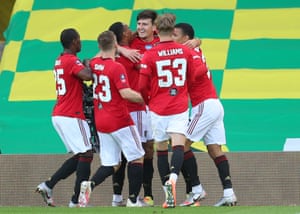 Updated at 8.08pm BST
8.02pm BST20:02
GOAL! Norwich City 1-2 Manchester United (Maguire 118)
Pogba curls in from the left. Ighalo can't quite control, but he instigates some pinball, and from the middle of a melee, Maguire sticks out a boot and guides the ball into the bottom right from six yards!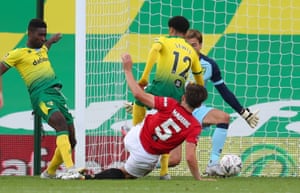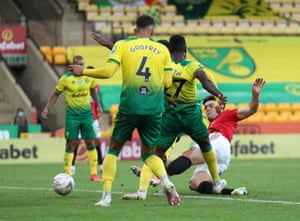 Updated at 8.11pm BST
8.01pm BST20:01
ET 27 min: A corner for United on the left. Before it's taken, the referee bollocks a few players; he's watching out for holding. The tension mounts. The corner finally comes in. Maguire throws himself at it. No good. But no worries, because ...
7.59pm BST19:59
ET 25 min: Lewis goes haring after Hernandez's pass down the left. At full pelt, he stops the ball on the byline, but Fernandes is on his shoulder and swans off with it. What lung capacity at such a late stage.
7.58pm BST19:58
ET 24 min: Another fine save by Krul, as he turns a low, swerving Fernandes shot round the post. That was heading into the bottom left. From the resulting corner, Maguire sends a harmless header floating over the bar.
7.57pm BST19:57
ET 23 min: That was a wonderful save in the circumstances. Maguire looked genuinely perplexed that his header hadn't gone in.
7.55pm BST19:55
ET 21 min: Martial earns a corner out on the left. Fernandes takes. Maguire wins a header at the far post. He guides it powerfully towards the bottom right ... but Krul throws himself across to claw it out just in time! That looked in all the way. Norwich survive!
7.54pm BST19:54
ET 20 min: United pour forward again, but there's no fluency in this particular move and eventually Ighalo clatters into Tettey. More blessed relief for the under-the-cosh hosts.
7.53pm BST19:53
ET 19 min: Hernandez turns and drives in from the left. It's beginning to look like a dangerous run, so Fernandes cynically clips his heels. A yellow card, and a free kick. Norwich load the box, but Duda's delivery is awful and an easy pluck for Romero.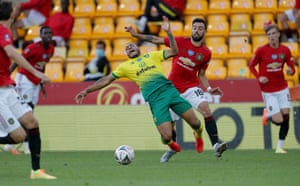 Updated at 7.59pm BST
7.52pm BST19:52
ET 18 min: Fernandes hoicks over the bar from distance. Norwich, having been given the runaround since the restart, will be glad to see it and take a breath.
7.51pm BST19:51
ET 17 min: Rashford has a couple of whacks from just inside the area. Eventually the ball ricochets away from the Norwich goal.
7.49pm BST19:49
Norwich get the second half of extra time underway. They haven't made any changes. United, of course, have already burned through their quota of subs.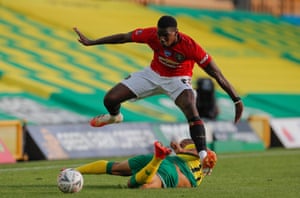 Updated at 7.54pm BST
7.48pm BST19:48
EXTRA TIME, HALF TIME: Norwich City 1-1 Manchester United
There's just enough time for Rashford to blaze over from distance, and that's the end of the first half of extra time. The ten men of Norwich are halfway towards a penalty shoot-out, surely their best chance of making the semis. Can United press home their advantage?
7.46pm BST19:46
ET 15 min: Rashford swings a stunning cross from the left towards Martial at the far post. The presence of Lewis is enough to put Martial off, and the ball sails out for a goal kick. Fine defending by Lewis, with Martial waiting to tap home.
7.45pm BST19:45
ET 14 min: Pogba creams one from 25 yards. The ball oscillates wildly; Krul nearly parries it into his own net, but the ball loops up and away. He gathers eventually. A heart-in-mouth moment for the Canaries.
7.43pm BST19:43
ET 12 min: Lewis battles Williams down the Norwich left and wins a throw in United territory. He takes his time over the throw. But it's not all about clock management, as the hosts then threaten for the first time in a while. Hernandez dribbles in from the left with purpose, but a chance to shoot doesn't present itself. Drmic tries to burst through the middle, but no dice. Finally Lewis crosses from the left but the ball's to nobody in particular.
7.40pm BST19:40
ET 10 min: Drmic attempts to launch a rare Norwich attack, but gifts the ball to Fernandes and sets up another United one instead. Norwich are very fortunate that United over-elaborate, Pogba pausing, Williams eventually losing possession.
7.38pm BST19:38
ET 8 min: Duda barges Shaw over out on the left. A chance for United to load the box. Fernandes decides to go for the top right directly, but gets it all wrong, blazing the free kick high over the crowded area. Goal kick.
7.37pm BST19:37
ET 7 min: Martial comes on for Bailly, becoming the first sixth-substitute in English football history.
7.36pm BST19:36
ET 6 min: Manchester United take two throw-ins at once. Maguire and Fernandes pushing the envelope there, hoping to introduce a new multi-ball feature into the laws of the game.
7.34pm BST19:34
ET 4 min: A bit of time and space for Rashford, 25 yards out. He takes a touch and pearls one towards the top right. Krul does extremely well to tip over. From the resulting corner, Bailly hoicks wildly over.
7.33pm BST19:33
ET 2 min: It's all United in these early extra-time exchanges.
7.32pm BST19:32
United get the first half of extra-time underway. Norwich have made one change, swapping Buendia for Duda. United are quickly on the front foot, Pogba meeting a looping cross-cum-shot by flashing a header wide left.
7.30pm BST19:30
A draw's probably about right, though United were much improved in the second half and pushed hard for the winner towards the end. They'll fancy their chances of finishing ten-man Norwich off in extra time, if the last few minutes were anything to go by.
7.27pm BST19:27
FULL TIME: Norwich City 1-1 Manchester United
And that's it! We're going to extra time ... and penalties if needs be.
7.26pm BST19:26
90 min +6: Very nearly! Rashford feeds Pogba down the left. Pogba smashes one towards the bottom left from a tight angle. Krul parries wonderfully, then Pogba is caught offside while performing a rabona.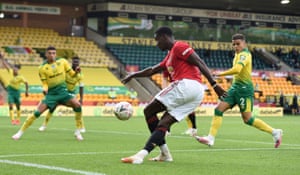 Updated at 7.35pm BST
7.25pm BST19:25
90 min +5: It's attack versus defence in Norwich's final third. Can United find a late winner?
7.24pm BST19:24
90 min +4: Shaw bustles in from the left and has a dig. The ball ricochets off a Norwich defender and up onto his forearm. The ref blows for handball, and it's more relief for the hosts.
7.22pm BST19:22
90 min +2: Norwich are suddenly flapping. They're very happy to see Fernandes float a harmless chip out for a goal kick.
7.21pm BST19:21
90 min: Before the corner can be taken, Cantwell is replaced by the more defensive Trybull. The corner leads to nothing. There will be six added minutes.
7.20pm BST19:20
89 min: Fernandes takes the resulting free kick, just to the right of the D. He tries to thread a clever one into the bottom right, but it's blocked out for a corner.
7.19pm BST19:19
RED CARD! Klose (Norwich City)
88 min: Fernandes backflicks down the inside-right channel to release Ighalo, who has spun Klose. The Norwich defender grapples with the striker from behind and brings him down. The ref goes straight for the red card. It's an easy decision, though of course VAR has to poke its neb in. But the decision stands.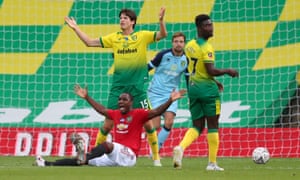 Updated at 7.25pm BST
7.17pm BST19:17
87 min: United had been rocking slightly, so do well to stroke it around the back awhile and regain their equilibrium.
7.15pm BST19:15
85 min: Fernandes shapes to shoot from the edge of the box. He's denied by a perfectly timed sliding tackle by Williams. United are hanging on a bit here; they've totally lost their earlier rhythm.
7.14pm BST19:14
84 min: Norwich smell blood. Cantwell dinks a ball down the right for Drmic. The striker enters the box and pulls back for Buendia, who unleashes a low diagonal daisy-burner that flies inches wide of the left-hand post.
7.12pm BST19:12
82 min: Godfrey one-twos with Buendia down the right and curls in for Drmic, who extends a leg with a view to prodding home ... but is beaten to the cross by Romero's spectacular diving punch. That's fine goalkeeping.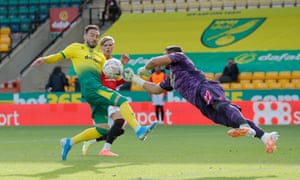 Updated at 7.37pm BST