The mysterious extinction of the dire wolf
Hear the biggest stories from the world of science | 14 January 2021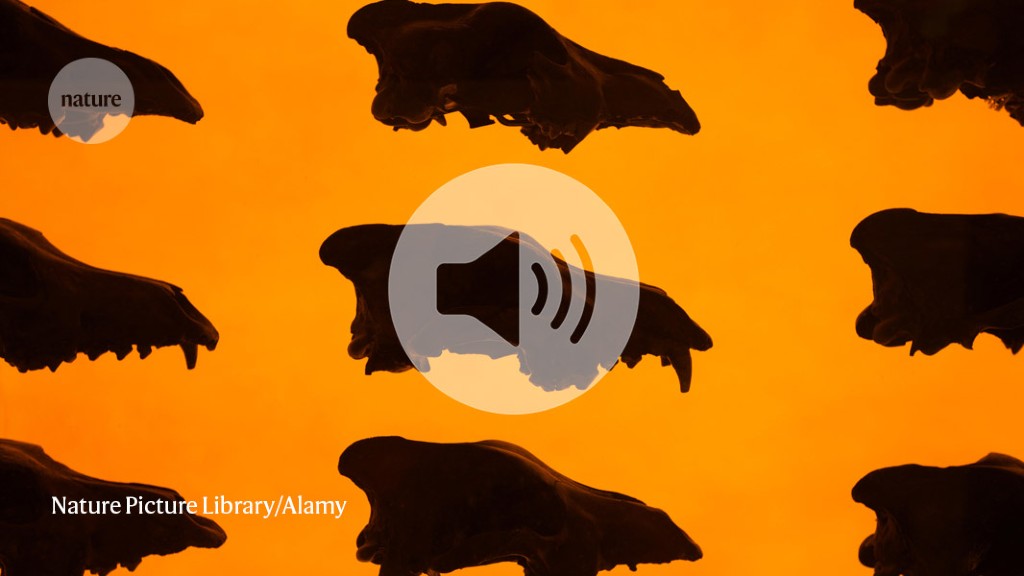 Hear the latest science news, with Benjamin Thompson and Nick Howe. Your browser does not support the audio element.
Download MP3
Coronapod: Benjamin Thompson, Noah Baker and Elie Dolgin discuss the rise of RNA vaccines. Your browser does not support the audio element.
Download MP3
Nature Podcast show notes:
00:45 Dire wolf DNA
Dire wolves were huge predators that commonly roamed across North America before disappearing around 13,000 years ago. Despite the existence of a large number of dire wolf fossils, questions remain about why this species went extinct and how they relate to other wolf species. Now, using DNA and protein analysis, researchers are getting a better understanding of what happened to these extinct predators.
Research Article: Perri et al.
11:43 Research Highlights
The secret to Pluto's blue haze, and the neural circuitry underlying mice empathy.
Research Highlight: Ice bathes Pluto in a blue haze
Research Highlight: Brain maps show how empathetic mice feel each other's pain
13:31 Post-Brexit science
In December, a last minute trade-deal between the UK and EU clarified what the future relationship between the two regions would look like, after Brexit. We discuss the implications of this trade-deal for science funding, the movement of researchers, and data sharing.
News Explainer: What the landmark Brexit deal means for science
23:18 Briefing Chat
We discuss some highlights from the Nature Briefing. This time, concerns about contaminating water on the moon, and the spy satellites that spied out environmental change.
Nature News: Will increasing traffic to the Moon contaminate its precious ice?
The New York Times: Inside the C.I.A., She Became a Spy for Planet Earth
Coronapod show notes
01:16 The rise of RNA vaccines
In less than a year, two RNA vaccines against COVID-19 were designed, tested and rolled out across the world. We discuss these vaccines' pros and cons, how RNA technology lends itself to rapid vaccine development, and what this means for the fight against other diseases.
News feature: How COVID unlocked the power of RNA vaccines
09:20 The hurdles for trialling new COVID-19 vaccines
Multiple candidates for new COVID-19 vaccines are still being developed, which may offer advantages over the vaccines currently available. However, running placebo-controlled trials of these candidates is becoming increasingly difficult, so researchers are looking for different ways to evaluate them.
News: Search for better COVID vaccines confounded by existing rollouts
14:45 How long will COVID vaccines be effective?
There is much concern around the world about two faster-spreading variants of SARS-CoV-2. We get an update on whether these variants could render vaccines ineffective.
News: Could new COVID variants undermine vaccines? Labs scramble to find out
Subscribe to Nature Briefing, an unmissable daily round-up of science news, opinion and analysis free in your inbox every weekday.
Never miss an episode: Subscribe to the Nature Podcast on Apple Podcasts, Google Podcasts, Spotify or your favourite podcast app. Head here for the Nature Podcast RSS feed.