Celtics vs. Bucks score, takeaways: Giannis Antetokounmpo gets Milwaukee off to a good start in Orlando
The Bucks got their bubble experience started with a big win over the Celtics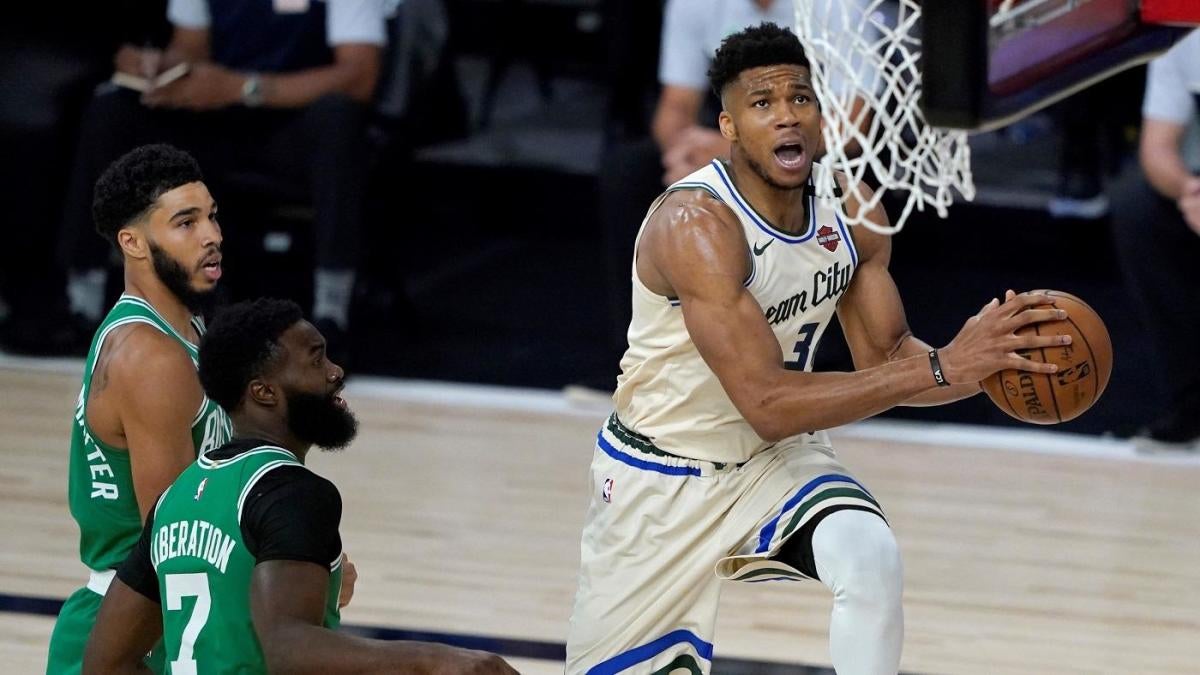 The 2019-20 NBA season is officially underway, and on Friday night, two Eastern Conference contenders took to the court for the first time inside the Disney World bubble. It didn't disappoint, as the Milwaukee Bucks escaped with a thrilling 119-112 win over the Boston Celtics. 
Giannis Antetokounmpo showed why he's likely to win his second straight MVP Award, finishing with 36 points, 15 rebounds and seven assists. He scored 16 of those points in the fourth quarter including six in the final 90 seconds to make sure the Bucks went home with the win. 
As for the Celtics, they struggled to shoot the ball -- 37-for-91 from the field overall and 11-for-37 from 3-point land -- but hung around in large part because they were able to get to the free throw line for 34 free throws, which was the fifth-most they've shot all season. Jayson Tatum had a rough night, finishing with a season-low five points on 2-for-18 shooting. 
Giannis shows why he's the likely MVP
Giannis Antetokounmpo is expected to win his second straight MVP Award whenever the league announces this season's honors, and he showed exactly why on Friday night. Despite a little controversy about whether or not he should have fouled out late in the fourth quarter, he finished with 36 points, 15 rebounds and seven assists, on a cool 14-for-20 shooting performance. 
Not that many teams have an answer for him, but the Celtics are uniquely ill-equipped to deal with Giannis' size and athleticism, and he did whatever he wanted all night long. Most importantly, though, he came up clutch time and again down the stretch, finishing with 16 points in the fourth, including two and-ones in the final 90 seconds to get the Bucks to the finish line. 
If you missed the game, it's definitely worth checking out his full highlights:
Tatum struggles in bubble debut
Despite losing Kyrie Irving and Al Horford in the offseason, the Celtics were arguably a better team this season, thanks in large part to Jayson Tatum. The third-year wing blossomed into a star before the shutdown and had established himself as Boston's go-to player. 
He was a disaster against the Bucks, however, finishing with a season-low five points on 2-for-18 from the field. And even that's a bit misleading, as he didn't even score one of those baskets. It was just credited to him because Giannis and Wes Matthews collided when going for a rebound and accidentally tipped it in for a Celtics basket. Tatum just happened to be standing nearby. 
While they could have used some more scoring from Tatum on this night, the Celtics aren't concerned moving forward. The least of our concerns is him finding the net," Brad Stevens said. He'll be fine." It's worth noting that the Bucks are one of the best rim-defending teams in the league, and Tatum won't have to deal with running into Brook Lopez and Giannis every game. Still, his struggles in this matchup are worth remembering if this becomes a playoff matchup. 
Free throws galore
It's great to have real basketball back, but it's going to take a few games before these teams are back in rhythm. These first few games have featured a lot of turnovers, bad shooting and all sorts of fouls. All of those issues were apparent in this game, as the two teams combined for 30 turnovers, and shot 24-for-78 from 3-point land. 
The most notable problem for both teams, however, was fouling. They simply couldn't stop doing it, combining for a whopping 54 fouls. That led to 34 free throws for each team, and those endless trips to the line were the only reason this game was as high scoring as it was. 
Hayward shows his worth
Gordon Hayward's Celtics career has not gone as expected, but he's fully healthy now, and has looked much more like his old self this season. While he's sort of flown under the radar because of all the other stars the Celtics have, he's putting up 17.3 points, 6.6 rebounds and 4.2 assists, while shooting 38.5 percent from behind the arc. 
Against the Bucks, he showed why he's so important to this team. His versatility allows him to mold his play to whatever the team needs on a certain night. With Tatum really struggling, he picked up some of the scoring load, and with Kemba Walker on a minutes restriction, he took over playmaking duties as well. 
He's such a steady presence, and it's little surprise the Celtics' best lineups this season have all included Hayward.