Graphic photos of Ahmaud Arbery's wounds shown to jury
Jurors in a Georgia courtroom have been shown graphic crime scene photos of the gunshot wounds that killed Ahmaud Arbery.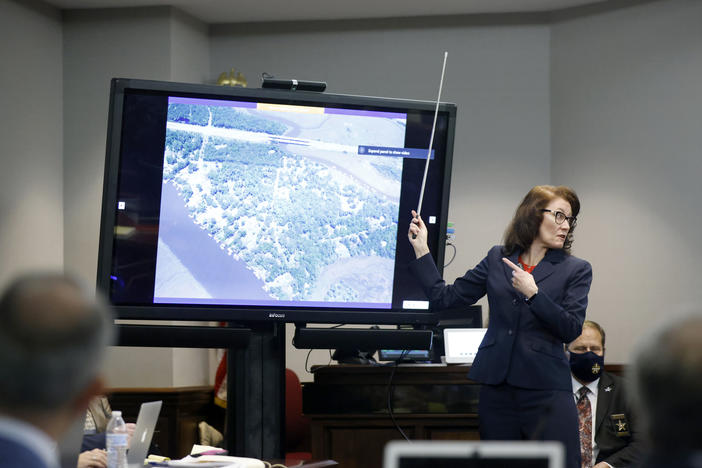 Jurors were shown graphic closeup police photos Monday of the gunshot wounds that killed Ahmaud Arbery.
Glynn County police Sgt. Sheila Ramos walked the jury through dozens of crime scene photos she took about an hour after the shooting during the second day of the trial for three white men who chased and shot Arbery, a 25-year-old Black man after he was spotted running in a neighborhood just outside the port city of Brunswick. 
Several jurors could be seen squirming as Ramos showed Arbery's body lying in the street under a bloodstained covering. Other images showed closeup views of the gunshot wounds to his wrist as well as grievous injuries to his chest and underneath one of his arms.
Ricky Minshew, then a Glynn County police patrol officer, testified he saw Arbery bleeding when he arrived at the scene about a minute after the gunshots sounded, but didn't try to render medical aid, saying he was alone and it wouldn't have been safe. He radioed for 911 operators to send emergency medical responders.
"Without having any other police units to have my back, there was no way I could switch to do anything medical and still watch after my own safety," Minshew said. He said he heard Arbery make a noise he described as a "death rattle."
Father and son Greg and Travis McMichael and their neighbor, William "Roddie" Bryan, are charged with murder in the February 2020 slaying. The McMichaels armed themselves and used a pickup truck to pursue Arbery after they spotted him running in their neighborhood. Defense attorneys say Travis McMichael fired in self-defense.